DialedIn Call Center Software
Powerful, Affordable, Reliable & Elegantly Put
At DialedIn, we take pride in offering call center software solutions that have stood the test of time. With over 25 years of experience in the industry, we have been relentlessly focused on providing real solutions based on the actual needs of our valued customers.
We understand that your ultimate goal is to enhance agent productivity and boost profitability and that is exactly what our software has been designed to accomplish.
Free Demo or Trial
Benefits of using DialedIn Call Center Software
Is your call center software holding you back? You could be tripping up your sales force with outdated software that, while it works, doesn't do enough for your staff or your customers. You're not just up against other call centers - you're up against integration with websites, social media, email, and traditional mass mail. Get all your bases covered, and offer a fast callback while the customer's interest is still strong. Make DialedIn (formerly ChaseData) Call Center Software your solution.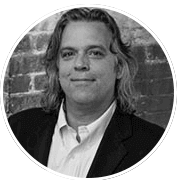 "Nailed it! I've been using this system for about a year now and can say after a full year's cycle the benefits of this dialing system far outweigh any others I have reviewed."
Ted Manikas
Supervisor at TJA

Improve Customer Satisfaction
Inbound or outbound, no matter what industry, a company's call center is a vital touchstone for the client experience. Make each call quick, efficient, and personal with DialedIn Call Center Software wraparound solution.

Make Dedicated Business Decisions
Industry specific needs require industry specific solutions. B2B or B2C, your call center needs to have data at its fingertips. DialedIn has customizable solutions for everything from Sales to customer service.

Increase Agent Productivity
See what your call center associates are doing with their phone time. Robust tools keep track of how many contacts are made with clients, sales completed, and how long they pause between calls.

Lower Operation Costs
Whether you make or receive calls, you can control your costs and even interface with common apps to increase productivity. Your staff will love the functionality, your accountant will love the bottom line.
Maximize Your Call Center's Potential
Is your call center software so 2008? Modernizing your call center can maximize productivity and profits by working with your agents and sales force, instead of locking them into repetitive procedures that waste time. Instead of a patched together set of fixes, you can have a customized wraparound solution to cover your company's unique needs, including:
Compliance management
Call logging and recording
Call routing
Escalation management
Live chat
In industry after industry, DialedIn (formerly ChaseData) Call Center Software is the call center software of choice to get calls where they need to go. Productivity is at your fingertips with hundreds of apps integrated through Zapier, connecting you to the tools your call center needs. You'll notice upticks in customer satisfaction, retention, and in your staff's morale, too. Robust analytics help management to keep their fingers on the pulse of the call center.
Even better, this modern call center can be set up and running in minutes, not days.
Learn More about DialedIn's CCaaS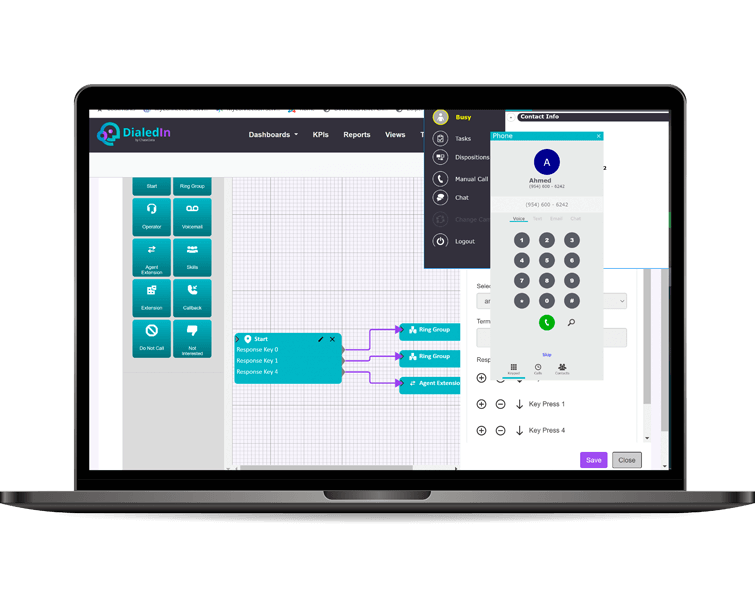 The Right Call Center Software Solution For Your Industry
Is there ever any reason for one-size-fits-all? In the world of call center software, the answer should be NO. Specific industries have specific needs to address for their agents and their clients. DialedIn is a one-stop shop for call centers who are looking to bring their A game. Inbound or outbound, with multichannel capabilities and integrations that will make the most of your time and productivity, this is call center software thinking outside the box.
You wouldn't tell someone in the hospitality industry that they have the exact same needs as a roofing company. Different industries have different needs that need to be addressed, so that they can efficiently handle call traffic and situations unique to their niche. Getting a wraparound solution, customized from start to finish, and ready to deploy fast is what DialedIn is all about. When you don't just need a solution, but the right solution call us and we'll get you covered.
Explore Call Center Solutions
All the Features you need in a Call Center Software Solution
Why limit yourself to a call center software that is not tailored to your specific needs. Everyone needs different features, and DialedIn can tailor a solution just for you.
Predictive dialer, progressive dialer, and click to call outbound dialing.
Interface with email, text, live chat, and social media.
Integrate with the latest and greatest in productivity apps.
Log and record calls.
Manage call queues, routing, and escalation.
Use onboard analytics to track performance.
When it comes to the needs of the Modern Call Center, DialedIn has you covered.
Even better, this modern call center can be set up and running in minutes, not days.
See All Features